Is Your Business Compliant?
Prepared in an emergency
In Australia we have some of the strictest emergency light and RCD testing standards and in the world. As a business owner, it is your responsibility to ensure that these standards are continually being met.
We could sit here and bore you with lengthy references from Australian Standards but ultimately the most important reason is the safety of all of your employees and visitors to your workplace. Modern research has shown that properly installed emergency/ exit light systems not only keep people calmer and more orderly during emergency evacuations but also increase the average time in which a person reaches their designated Assembly Point. As for RCDs (commonly known as Safety Switches) which quietly protect the circuits that power your business – these devices are one of the most important safety measures in any workplace and have saved countless lives since becoming commonplace in 1991.
Just to be clear though – no one expects the compliance of your electrical systems to be high on your priority list, especially with all the worry that comes with the day to day stresses of running a business. The servicing of each system only needs to be undertaken every 6 months and the whole process can be completed in roughly 2-3 hours with minimal disturbance to your workplace.
To give you an understanding of the exact function of each system as well as the way we test for a simulated emergency failure, let'shave a look at the intended purpose of how they work.
Emergency Evacuation Lights
Besides your legal requirements, the most important reason to maintain your Emergency Light System is for the safety of your employees and visitors. When your emergency/ exit lights are tested, the complete system will be de-energised to replicate an emergency electrical failure. This should cause the built in back-up battery in your emergency fittings to kick in and illuminate the fitting well enough that in the event of an emergency, people will be adequately guided in a safe manner from the area. The fittings are also required to stay illuminated for at least 90 minutes while running on battery back-up. They should also be properly cleaned and logged.
The exact requirements for the inspection and maintenance of these fittings, as in AS 2293.2 state:
all emergency lights and exit signs must be expected at least once every 6 months
6 monthly inspections include lamp tests and replacements as well as a 90-minute discharge test
inspection & cleaning of fittings and reflective surfaces must occur every 12 months if you are interested in really getting to know everything about emergency and exit lights, there are 3 standards in
Australia which apply to their correct installation, inspection/maintenance and design. These are:
AS2293.1 System design, installation and operation
AS2293.2 Inspection and Maintenance
AS2293.3 Emergency escape luminaires and exit signs
Safety Switches
The safety switches in your workplace, whether that be a warehouse or an office space, are a piece of electrical safety infrastructure that most people know exist but don't really know what they do or why we need them.
These devices monitor the flow of electricity through a circuit and turn off the power in a fraction of a second if a leakage of current is detected. It is essential to ensure that regular testing is undertaken to properly demonstrate that the switch will adequately trip in the event of an electrical incident.
All safety switches in the workplace should be routinely inspected every 6 months with a trip function and maximum trip time test completed to confirm the safety and function of each device.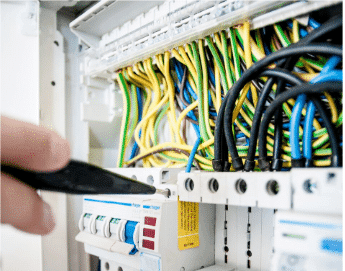 At Ace Total Compliance we can help take all of the worry out of your electrical compliance needs by undertaking time tested routine inspections with extensive reports. These reports will reflect your overall compliance rating, with an extensive list of technical results based on tests completed on during our inspection. Additionally, We will send you reminders when the next test is due to be scheduled. We also can complete the work out of hours for a discussed fee
If you would like some more information on any of the content please contact Ace Total Compliance on
Ph: 1300 879 987or ace@acetotal.com.au